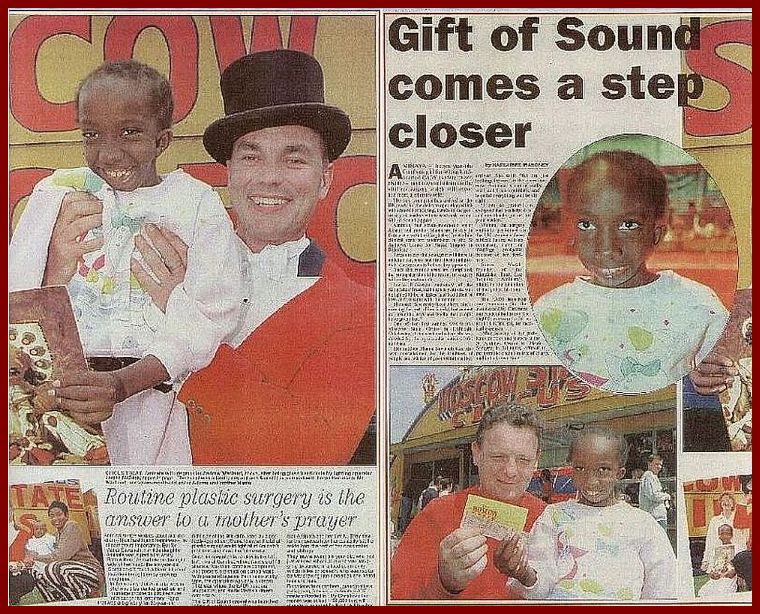 THE GIFT OF SOUND APPEAL,
An East Anglia Daily Times Exclusive Story
KATHARINE MAHONEY and photographer NICK STRUGNELL
travelled to the Gambia, thought the generosity of Instone Aviation - International Marine Travel Agents, and Simon Wezel, Founder of Kingfisher Trust,who strated the Aminata Appeal for an exclusive behind the scenes look at live in rural Africa. We bring you the first of two special reports from the West African country highlighting the problems faced by six-year-old Aminata and showing just how vital plastic surgery will cure her deafness and give her the chance of a normal life. Doctors and nurses at the st.Andrew's centre for plastic surgery in Billericay have offered to perform the operation free of charge and in their own time and are backing our campaign to raise money to cover the costs of Aminata's stay in hospital.
LITTLE Aminata Sawaneh lives in the sort of tiny rural village duplicated a million times all over Africa.
life in Sukuta for its 7,000 inhabitants is difficult. The majority scratch a living from the parched soil under either a fiercely beating sun or torrential rain, depending on the season. other earn their basic wage of £15 a month by making beautifully crafted tables, chairs and beds from tropical hardwood, trading in clothing and radios or hustling tourists. it is a hard life and the meagre money they make is often needed not only to feed their own partner and children, but also up to 15 uncles, aunts, cousins and in-laws which make up the extended family.
it is an unforgiving lifestyle, one based on long hours, hard work and continual struggle. Good health is a basic necessity for success and survival.
Aminata's village is made up of dozens of "compound" -basic concrete house with corrugated roofs and each with five rooms for up to 20 family members.
They have no electricity or water and are only accessible down dusty tracks lined on each side by 6ft high plantations of couscous or pampas grass. women dressed in the bright. oranges, greens and yellows of the traditional Gambian costume can be seen daily collecting water in plastic buckets and proudly carrying them home, perched high on their heads.
The compounds or plots of land are scattered haphazardly across the countryside, fanning out from the centre of sukuta village, which is up market in the sense that it had a local maternity unit, mosque, primary school and market. Even to the outside it is immediately evident that at the heart of sukuta, like every African village, is the market. it beats daily and pumps life into the surrounding village.
At about 6am farmers and traders start their long trek though the heat and dust, by foot or rusty bicycle, to sell their fresh produce of fish, meat, peanuts, palm-oil, chillies, onions and tomatoes.
Hundreds crowd into the crudely roofed concrete market square, displaying their precious wares on scrap of worn material. often the sheer volume of sellers causes the traders to spill out onto the red dusty ground surrounding the official market place.
unlike western markets there is no mass production here. Each trader may have just three spring onions, two fish, ten tomatoes or a handful of chillies. He must sell these to make enough money to feed his family.
voices are raised high as traders compete with each other to sell their products. firewood painstakingly collected from mango swamps and the countryside goes for as little as 6p a bundle. Haggling is the name of the game and the emphasis on vocal communication both to buy and sell and to strike up a relationship with potential customers, makes it obvious why a child facing deafness had such an uphill struggle in Africa A warm, firm handshake and the passing of pleasantries are not just a greeting in the Gambia, but a traditional from of address that is vital for respect and friendship. the local market is frequented by nearly all the village's inhabitants every day and provides a vital life source. with on electricity, let alone fridges, food has to be bought fresh each day.
But it represents much more than just the day to day grind of buying and selling. it is also the social centre of the village, where friends meet to chat and pass the time of day, marriages are arranged and new friend introduced. But for little Aminata it is an area she shuns, embarrassed to be seen in public because of her deformed ear, and afraid of the taunts she may receive.
if she continues to avoid such a focal point of village life it will ultimately leave the tiny six-year-old with a bleak and difficult future.
she faces being ostracised with no job or marriage prospects simply because she cannot get a delicate operation performed regularly in the UK. Aminata, whose parents are both charity workers, was born with a deformity which has left her without an earhole, even though beneath the skins surface lies a perfectly formed "ear"
Her mother, Mama, says she is unwilling to go out and join in traditional village life-because of the taunts and teasing she receives not only from her own peers, but even from uneducated adults..
She said: "I cry when .her older sister comes home and tells me how She has been .treated. .She does not want to go out. alone any more. She is losing her independence.
"I worry what will happen to her." Isolation in such a social and hospitable culture is something every parent in Africa fears. Human contact is woven into the-very fibre of African society :and without it a child could soon find herself marginalised and an outcast
Religion — more than 80 per cent of the country is Muslim — also involves close human -contact. Prayers are said five times .a. day.., and it, is: considered better to pray in company .than individually — hence the abundance of small mosques or prayer rooms at markets. The bonds of the extended family are 'much stronger than most. Europeans can appreciate, with distant cousins being considered true brothers and sisters. Consequently, in a land where unemployment is high, jobs are found and kept through family and personal connections.
Without the ability to hear and communicate properly little Aminata Sawaneh will face a nearly impossible struggle to become part of the community and improve her life.
It is a battle that hundreds face each year and only a handful of lucky ones, often with. outside help, win.
WE VISIT AMINATA'S NURSERY SCHOOL
AMINATA sits in the corner diligently reciting Baa, Baa, Black sheep with the rest of her class. she has placed herself at the back of the room, her deformed ear carefully positioned next to the wall and hidden away from sight.
A young African teacher stands in front of the class, and as he slowly raises his hands the class stop chanting. Put your hand on your head," he tells them forty-two pairs of hands fly upwards.
Aminata is a fraction behind the rest she copies their movements but has obviously not heard the command. Her teacher looks concerned.
"I am worried about her learning," says 21-year-old. Ebrima Ceesay. when you talk to her, you have to come right up close or sit with her she can not repeat things to my satisfaction and is falling behind the rest of the class. she is the right age to have help now, but if she gets any older it will be very difficult."
in a country where nearly all of the teaching is done by listening and repeating, Aminata's problems are made even more acute.
she is not able to refer to a text book to help her with the learning process, because of limited school resources.
with eight native African languages, including mandinka, fula, wollof and jola, the need to learn English is paramount. The local tongues are extremely diverse and Africans themselves are normally able to speak only or two fluently.

English is the official language and is vital for any schoolchild to read and speak if they are to progress not only educationally, but also in the outside world.
The 42 three to six-year-old at Norbury primary school, in the village of sukuta, arrive daily hand in hand at 8.30am and are taught maths, languages, games, singing and story telling all in English.
The enthusiasm for lesson is evident and their high pitched chanting voices can be heard as you approach the school, surrounded by orange trees and mangroves, via a winding dusty track.
The school building is a concrete hut with a corrugated iron roof and inside it is smilingly hot Every time a child gets up to walk around, their bare feet stir up the dust on the floor.
on the wall there are three or four pictures of plasters. The teacher would like to see more pictures on the wall, but they have no adhesive tape. The children, in their bright purple uniforms, sit eagerly on home made benches and chairs, facing a blackboard. Ready to Learn" is inscribed on the outside wall of their classroom.
Ebrima has been at the school for three years and loves it. "they are all such good pupils he says you have to be very lenient and patient so they understand what is going on. we recite rhymes and dance together in class. Learning must be fun so they want to come back each morning.
All 42 children, some of whom only started a month ago, can recite the days of the week, the months of the year and count to 100 in English. they also learn the Gambian national anthem and nursery rhymes such as Rule a cock Horse to Banbury cross and twinlde twinlde Little star.
whenever Ebrima poses a question, such as where is your ear?", hands shoot up. they are desperate to show how much they know and what they have learned.
Exercises include bringing a book from the table or ringing a bell, and each time it is correctly executed the whole class clap their hands, applauding their fellow pupils.
Headmistress Harriet Coker started the school four year ago and runs it virtually single handedly. Her own tiny home doubles as the school office, canteen and medical centre. Her vegetable patch help feed the hungry youngsters. finances are stretched and there are not enough books or pens to go around she would love to whitewash the school building to make it look smart, but without even basic items, such as desks, she admits it is not a priority.
She said: "I want to expand, but it is all paid for from the little money the parents pay. We ask for a every month to pay the teacher, but if they can't pay we do not make them. -
"If I had the money I could make it beautiful School is good for them because it trains them and teaches them to be polite!'
Harrier, a teacher for 37 years, works tirelessly for the school Not only does she oversee all the lessons, but she personally keeps tabs on all the children academically-..
She also cuts and sews together all the children's uniforms, chosen because she "loves the colour"
She too is concerned about Aminata's future knowing how difficult is to. move up the social": ladder without. an education in a developing country
She understands the difficulties faced, especially by women in a Third World country and knows how hard it can be to gain a career and a brighter future.
Summing it up, she simply says: "She faces a difficult future in a tough country.